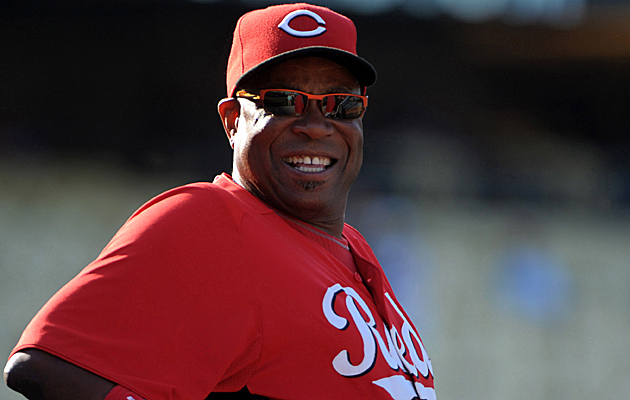 Well, well, well. If it isn't our old friend Dusty, up to his old tricks. Well publicized is Mr. Baker ruining the promising careers of young aces through overuse, especially during his Chicago days with Kerry Wood and Mark Prior (Let's have Wood throw 120-plus pitches in 13 games!). But Dusty Baker also has a penchant for simply mismanaging his pitchers in game, especially when it comes to the late innings.
Let's look at a particularly grievous and embarrassing episode, shall we?
Sunday night – SUNDAY SUNDAY SUNDAY!… Night Baseball. We were treated to a fine game between the Reds and Cardinals for nine innings. Both teams obviously have great offenses, and both were able to get to the opposing starter to the tune of four runs over the first 6 innings. The bullpens held strong after that, and in the top of the ninth, the always craze amaze Aroldis Chapman came in for the Reds.
As I mentioned to Ricky Automatic that night, Aroldis Chapman is the equivalent of giving a small child a gun, blindfolding them, and then directing them to fire in the general vicinity of a target. The guy usually has no idea where he is throwing the ball at 100+ MPH, almost taking the head off of a batter or two in the process. On Sunday, he did have an idea, and he retired the Cardinals in order on 12 pitches, including two strikeouts.
If you were of sane mind you might think hey, Aroldis is throwing the ball pretty well tonight, we stretched him out a little this year, he only threw 12 pitches in the 9th, lets put him back out there. I know the question you just asked yourself – did he pitch the night before? Yes, he did. He got the save on 11 pitches on Saturday. It is a moot point and this was Sunday Night Baseball on national TV.
If you were of sane mind, you might have thought all these things. But you're not Dusty Baker.
Instead, Dusty tossed old J.J. Hoover out there in the 10th to the Red's big division rivals, the rivals they are desperately trying to escape the shadow of. And by rivals, I mean he tossed them to a howling pack of wolves, wolves that are batting .339 with RISP this year, wolves that feast on weak sauce like J.J. Hoover.
Listen, J.J. Hoover is my boy, but the dude is not a great relief pitcher. His ERA going into this outing was 3.46. It would not stay that way for long, as the aforementioned wolf pack set upon him with fang and claw, tearing his proverbial throat out and parading it around Great American Ballpark. A walk, a popout, single, an RBI double, an intentional walk to get to the 9th hitter/load the bases, strikeout, 2 RBI single, single.
Do the math and we now have the bases loaded, two outs, and 3 runs in. You'd think that if Dusty really wanted to win this game, he goes and gets the beef jerky meat snack that is J.J. Hoover off the mound after the first RBI double, hoping the shreds of his bullpen can stop the bleeding with two on and one out. Instead, he lets the hole get dug pretty deep before deciding to change things up.
And what he would do next, OHHHH BOY. This is why I am writing this article in the first place.
A tiny little preface. I have thought a lot about the craft and nuance of coaching- what the best methods are, why people do it – and I've done a little bit of it myself and it was very fulfilling and enjoyable. One of the obvious ideas with coaching, so obvious you could call it a tenant – is to put people in situations in which they have the best chance of success. This is paramount in growing the confidence of young and inexperienced players.
So, with that in mind, Dusty Baker decided to give Curtis Partch – oh Curtis, that precocious young lad from Merced, California – his Major League debut with the bases loaded.
With Matt Holiday coming to the plate.
In a nationally televised game against their division rivals.
Who just so happen to be the best team in the Majors.
Even if you don't know the outcome already, you do:
You have got to be f*cking kidding me, Dusty.
The Sunday Night Baseball announcing crew were basically reading this kid's obituary before that ball landed, which I'm still not sure it has, despite the evidence of that video. Listen, I know these players are adults; they're major leaguers, they've gone through a shit ton of crap to get here, like long bus rides in double A and years of crappy food and living in hotels. I'm sure Chris Partch has been hit hard before and hopefully he'll bounce back.
But this is completely unacceptable management by Dusty Baker. He not only screwed up by not putting his team in the best position to win, but he put a young, completely inexperienced player out there in the worst possible situation to succeed, when the game was pretty much already over. It is tantamount to cruel and unusual punishment.
Then again, what's new. The Cardinals win, Matt Holiday hits another home run, and the Reds play second fiddle to the Wolfpack.
Just like always, Dusty Baker continues to be a clown, treating his pitchers like machines to be used and discarded.